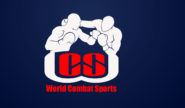 Devin Haney def Xosilsani Ndongeni. Tell fans "I'm a F'ing contender."
By Scottie "The Context" White
Devin Haney improves his ledger to 21-0 (13KOs) earning a competitive 10-round decision versus Xosilsani Ndongeni who notched his first defeat 25-1 (13KOs).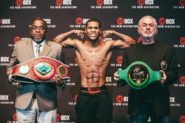 Ndongeni hailing from South Africa was an unfamiliar name to the mainstream boxing fans, but on this night his boxing hospitality proved he wasn't a temporary guest in the division.

Haney sustained his unbeaten record under the bright lights of Shreveport, Louisiana as the headliner on the ShowBox opener for the year 2019.

As the bell sounded the opening frames, boxing fans in attendance witness Ndongeni canvased early from a swift right hand from Haney, who enforced his in-and-out pressure early on. This was the only knock down to fracas the bout, both fighters rallied their exchanges through the mid to latter rounds.

Ndongeni was sporadic in owning his consistency to press a solid offensive delegation. He was able to land, but absent of integrity in keeping Haney honest as the fight ticked own. Haney demonstrated his attentive jab keeping Ndongeni on the front end of his combinations and whenever he chose to abridge distance to work inside, the entry was turn-key.

Haney boxed out the back window of the 10th frame, peppering Ndongeni with a blistering combination which chaptered for a climatic closure but Ndongeni would indeed persevere to end the fight standing hearing the final bell. The bout was an entertaining ten round bonanza, seeing the laser optics of Haney targeted principles, landing the more effective punches to his boxing consortium. The final tally registered an active Haney punch output (237) to Ndongeni (123)

Haney bladed his post fight response with "I'm a fucking contender."
Undercard Ruben Villa def Ruben Cervera via UD. Frank Sanchez def Willi Jake Jr. via KO