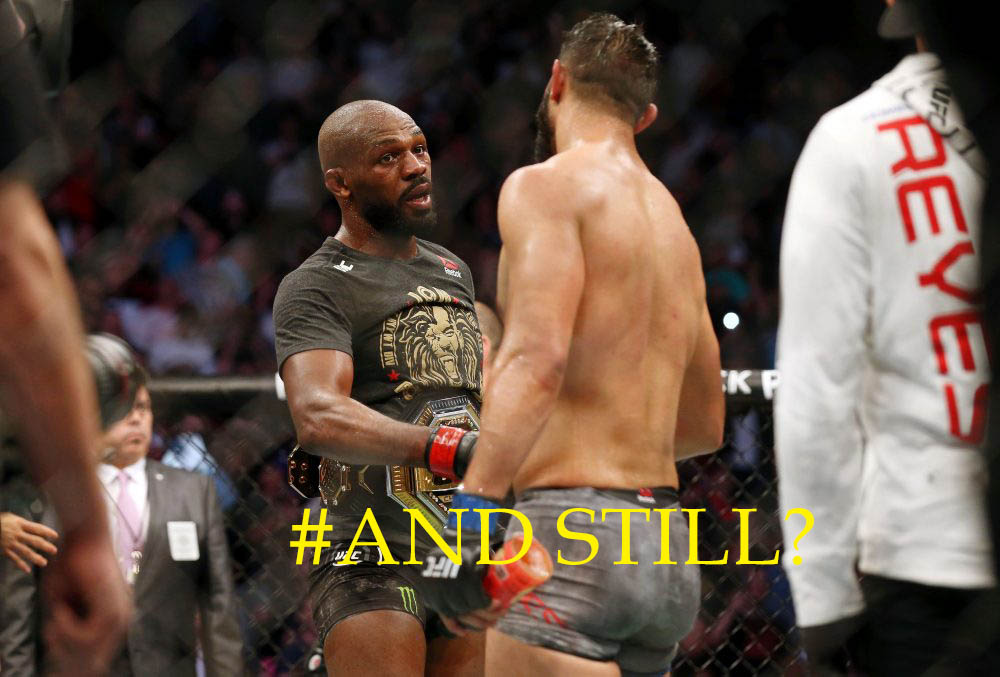 #ANDSTILL? Jones Decisions Reyes, But Fans Have A Bone To Pick With The Judging. UFC 247.
BY Scottie "The Context" White
Houston Tx, (Feb 8, 2020) As we sat patiently listening to the pressers, fighters panel and experiencing the ceremonial weigh-ins, finally the fight night patrons began to fill the Toyota Center in the Houston arena. A main event anticipated by hardcore mix martial arts fans eager to witness if the hype from the hammer to the nail seeing Dominick Reyes post one of the biggest upsets in UFC history. Jon Jones (26-1) was set to defend his light heavyweight crown versus Dominick Reyes (12-1). Both respectable strikers competing at the highest level but for Jones his resume of excellence supersedes that of his challenging compeer.
Jones body of work certificates the who's – who of MMA, the likes of Thiago Santos, Rashad Evans, Daniel Cormier, Alexander Gustafsson, Lyota Machida, Quinton Jackson and Mauricio Rua. What a mantle of opposition, a list of well earn victories along with legitimate experience in competing against the best fighters in the world. For the challenger Reyes, his unblemished record is the diamond in the rough, short list of knock outs in recent fights leading up to his official championship birth with Jones. Reyes disbursed Ovince St. Preux, Volkan Oezdemir , and knocking out Chris Weidman. A commonality of opponents is OSP who dropped a decision lost to both Jones and Reyes.
On this night, the cage was set, two fighters met their weighted limit as the fans were placated one last time as the fighters faced off. Bruce Buffer serenaded the introduction as the onlookers instigated their cheering vortex to rebel the fighters preamble. 15th straight title fights for Jones reflecting back to March 2011 as the bells chimes the official start to round-one.
"War Ready For The Light Heavyweight Crown"
Bell sounds the opening. Reyes closes quickly, leads with a straight left hand into the clinch as they circle for position sending a knee from both fighters. Jones kicks the knee of Reyes who is on the bicycle early. Nice low kick from Reyes, he's grooving out the gate, places a right high kick forcing Jones respect. Bully pressure by Reyes, shins collide as both fighters lead with front kicks, an high energy start to a five-round championship showcase. Hard overhand right by Jones as he stalks Reyes who's calibrating his rhythm. Low calf kick, bowtied with a right- left from the south paw striker landing clean for Reyes. 3:02 in the frame, Jones steps in as Reyes blast a solid left hand to his solar-plexus dropping the champion on his wallet but quickly back to his feet. Jones fakes a take down to initiate the clinch, Reyes separates with a set of stinging combinations to the jawline of Jones, forcing the champ against the cage. Reyes upholsters first in every exchange as Jones processes Reyes timing. High kick by Reyes, perfect range finder with another low kick off center keeping Jones guessing. Reyes looks amazing with a 90 seconds remaining as he lands a high kick up top, quickly resets with a punishing mid-level kick to the rib-section, forcing Jones to scrambling directly into a well placed reverse kick from the challenger. Perfect round thus far by Reyes starching another inside low kick followed by a punctual jab keeping the champion on heighten alert. Round stretches in the final 30 seconds as Reyes keeps his two-step in rhythm with superb fluidity slicing angles like a hot apple pie.
"Superior Striking From Reyes"
Round-two. Jones coach expressed in between rounds "commit to your shots, you are allowing Reyes to pull you in." Sound advice as the round starts. Reyes doubles up on a pair of low kicks, then back to the body stamping a kick to the ribs of Jones. Jones lines up a straight left hand provoking a barrage of punches by Reyes who chases behind a fleeing Jones who searches for separation. Reyes pops a Kick to the arm, as he slows a bit from exspending precious energy in the thrill of the hunt. Jones checks a nasty inside low kick from Reyes, ramping up his presence as the challenger downshifts a tat from a blistering pace. Fighters exchange punches to the body. Left hook from Jones perks the attention of Reyes to keep his hands up. Jones amours up nicely, as his defense repels Reyes assault much easier as the challenger mobility flattens out. Jones experience showing as he downloads data from Reyes with a right side high kick, just to set up the same side for a mid-level kick to the body of Reyes. Pinpoint adjustments from the champ. Jones stays the course stalking Reyes as both fighters land right hands, then Reyes shoot a pinging right uppercut which seems to stun Jones. 10-seconds remains as Reyes lands a thudding inside calf kick as the round expires. Reyes returns to his corner with his hand raised high.
"Reyes Confidence Soars"
Third-round. Jones first to get off, inside low kick. A prime striking select from both fighters tonight. Pressure at the front door from Jones as Reyes shuts down the hospitality with a rude kick to the body. Reyes loads up from both sides with low outside calf kicks, Jones pushes a right hand through the center. Right hooks paying dividends for Reyes forcing Jones to reset. Spinning attachment from Jones which wasn't hot to the touch as he usually serves up to his opposition. Punches land on the inside from both fighters, then Reyes steps back with a nice left uppercut to the undercarriage of Jones beard. The crowd signs their approval to an action packed contest playing out in the headliner. 2:14 Jones shoots in completing the first take down of the scrum but Reyes defends well. Fighters clinch, Reyes principals a left elbow over the top with authority. Minute remaining, Jones boxing is very effective as he works to close distance as Reyes scrambles the outside. Jumping kick misses by Jones as he immediately changes levels for a take down hearing the bell.
"Jones Turns Up The Heat"
Fourth-round. Kick landing by Reyes, holding true to his mantra to be first. Fighters close distance, Reyes lands a stinging punches to the eye of Jones staggering him. Jones bobbles back to the cage in a swarm of incoming munition from Reyes. Jones works for the clinch, drops in for a take down as Reyes trying hard to defend. Jones changes up to a body lock as he reverse direction scoring a crucial take down of the challenger. Reyes post nicely, turns his hips out, gather his knees and does a great job back to his feet while Jones maintains back control. Jones changes levels again for a double-leg take down easily contained by Reyes. Fighters separate with a quick reset, as both feint their positions. Jones keeps up the pressure, missile in for another take down but rebuked by Reyes. Jones lands a beautiful elbow, he showing his championship creed, looking the fresher of the pair. 30-second mark as Jones shifts another gear gassing a straight punch down the center. Reyes breathing heavy barely holding court.
"Championship – Final Round"
Round-five. Stalking by Jones as the fighters plot their next move. Jones shows blitz deep in the wheel house of Reyes, locks up the seat belt and drives Reyes down for another take down. Quickly, Reyes works back to his feet but Jones changes grip to a crotch lift as Reyes does well in defending a second return to the mat. Hand fighting on the side as Reyes frame nicely to create space as the fighters reset. What a sizzling pace from Jones, Reyes looks spent but still in the fight. Jones walks Reyes down showing him what championship rounds are all about. Kick to the body by Jones. Obvious exhaustion from Reyes, Jones spinning back kick demonstrating the better cardio. Left hand by Reyes, followed by a solid left kick. Minute left, Jones firing on all cylinders as Jones sends another front thigh kick. Right hand by Jones. He's chasing Reyes in the final seconds to the final tick of the fight. A sensational fight as the crowd cheers an unbelievable performance from each camp. Jones runs over scaling the top of the cage wrangling the crowds approval. At the end of the day, this clash lived up to every bit of the growl, as scores are read.
"SCORE CARDS"
Bruce Buffer reads – (48-47), (48-47), (49-46). Scoring a unanimous decision in favor of Jon "Bones" Jones improving his ledger to 26-1-1. Now he's the sole proprietor for the most championship wins in UFC history.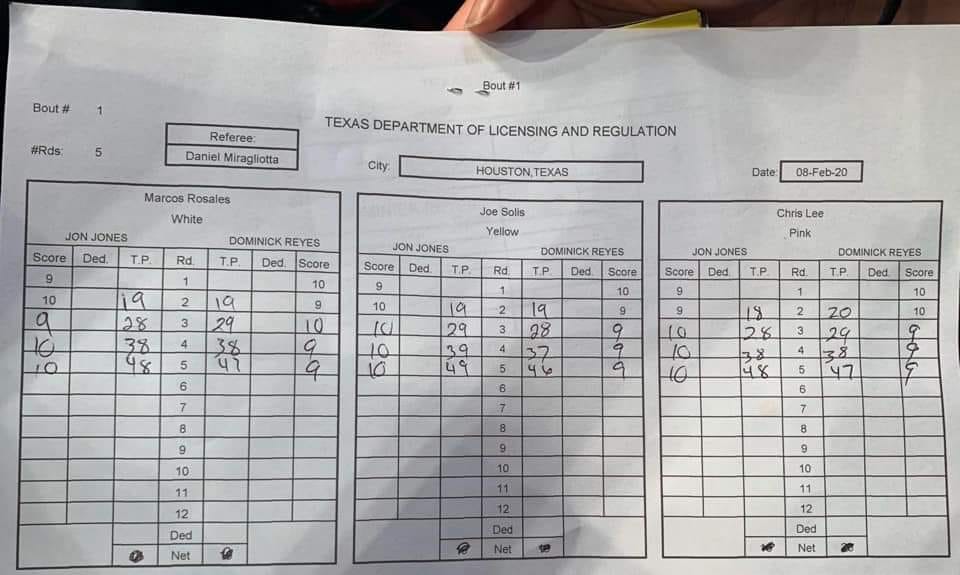 Final summation of the main and co-main event should receive a significant high grade of approval. Though the underbelly reflux some questionable decisions, overall the championship bouts extended a quality PPV entertainment value in retrospect. My take away to the final tally of the score registers a different winner in Reyes. Potential 3-2 in his favor, then I'm forced to revert back to the scoring which dances the devils beat previously in this sport. Early rounds Reyes landed significant strikes hurting Jones, stayed active being unpredictable and first to charge the assault until the latter half of the third frame. Even with Jones take downs, there wasn't damage as Reyes stance return back to his feet easily.
John Annick provided a complex but logical resolve to this scoring rapture in the UFC. He suggested open scoring, there are many who believe in transparency but how will it influence the fighters giving maximum effort knowing they are easily ahead on the cards. Surely there are spread sheets, metrics and collaborative insight from from professional fighters to assist in this subject matter. An unruly choice in picking your poison. Will the powers that be find solace with limit control of the out come, I don't think so. Poor judging, a sinful omen we all have witnessed burn the hearts of many deserving fighters who weep in the smothering anguish of disappointment.