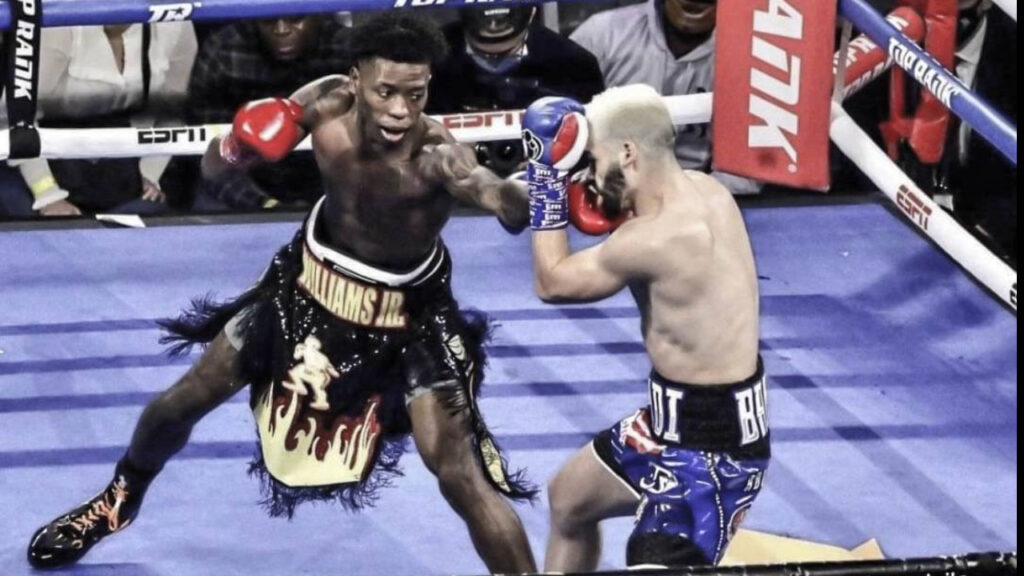 Michael Williams Jr Brushes Off Lose, Returns To 147, Ready For 20th Win
A new year with more names, fresh fights and eagerness from fans to see the best fight best. 2021 highlighted Top Rank promotions holiday showcase with a loaded card 11th Dec, at Madison Square Garden.
The fight card was stacked with star power, a long list of boxers who have marched from their amateur inventory, to building up their professional catalogue on the highest stage of competitive boxing. Vasyl Lomachenko, Jared Anderson, Xander Zayas, Keyshawn Davis, and Michael Williams jr to name a few.
A rising star on the card was Williams jr signing up for the biggest fight of his professional career. He entered the ring with a smoking 19 victories and zero defeats. Williams jr was set to battle undefeated local fighter John Bauza who was leveraging 15 wins, next to zero loses. A superb step-up bout for both boxing luminaries.
Williams jr agreed to face his opposition a weight class below his usual 147lb limit, which would prove costly. When the scales registered his official numbers at the weigh-ins, the results totaled an unnerving 138lbs for the 140-pound limit. Yes, he made weight, but now the team had to begin the rehydration process from such a drastic weight cut.
Once in the ring, both fighters center square touching gloves ready for a much anticipated clash. From the opening bell Williams jr didn't produce his usual domineering strength. His opposition landed a half-hearted jab sending him to the canvas for an early knockdown. Williams jr aimlessly worked to establish his ring generalship finding his footing. A beautiful straight left-hand landed flush which briefly stumbled Bauza. Williams jr activity wouldn't be enough early rounds to shift momentum facing several more knockdowns during the schedule eight round contest.
This night of adversity was the most Williams jr experienced in his 19 professional fights, but his fans spoke highly voicing their respect for his unrelenting heart to never quit through four turbulent rounds prior to the stoppage.
We must note in the boxing annals recording your first lose happens to the best of them. The reward is the experience that comes with adversity that feeds the hunger to be that much better.
As a journalist, I've read my share of denigrating criticism underlining Williams jr knock downs to be somehow embarrassing. Then again, some writers man their keyboards with prorated knowledge of the sport and the fighters to begin with.
The good news Williams jr heralded as the "BoyWonder" trained by boxing legend Roy Jones jr is due a return 23 April. He's motivated more than ever to grace the bright lights contending for his 20th professional win. Get your tickets at "One One Six Boxing Promotions" for another night on the battlegrounds of boxing.