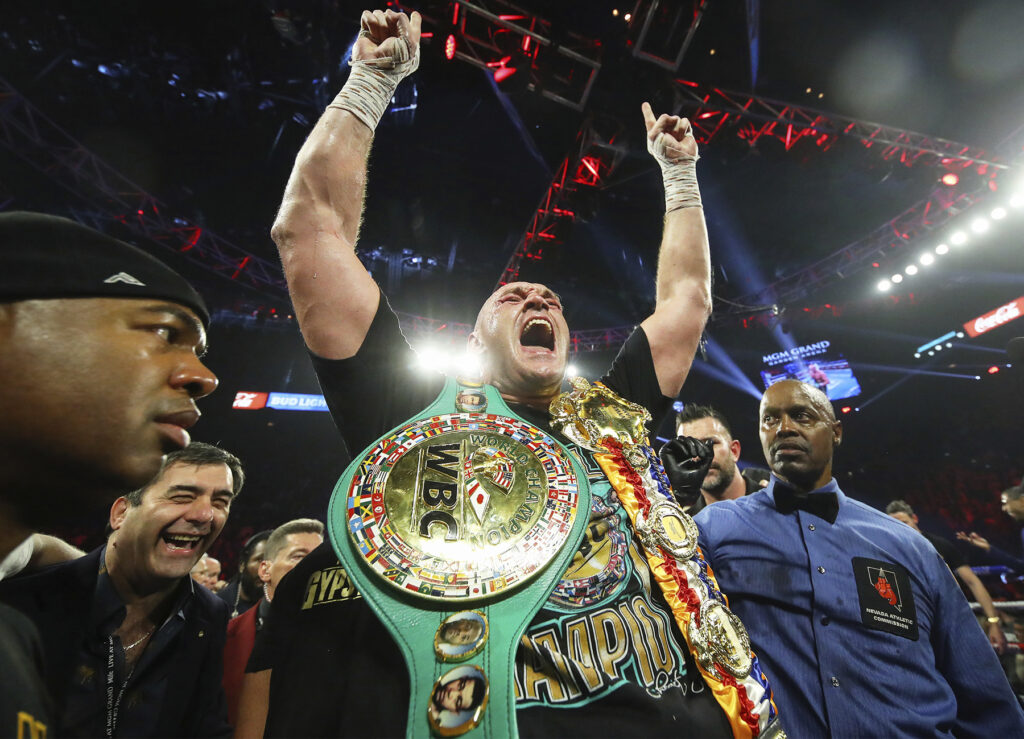 Wilder Dethroned In Seven. Fury Dominates, Wins WBC Crown.
BY Scottie "The Context" White
Just over a year ago 2018.  the boxing global was embroiled in a splinter of controversy  as Deontay Wilder versus Tyson Fury waged battle to a split draw in their first outing. It didn't take long for the jeers to glitch the post-fight audibles, seeing both heavyweights protest who's performance deserved the nod in the judges eyes. WBC champion Wilder and challenger Fury sped through the media timelines expressing copious details to the courts of collective boxing alliances.   Inflamed sidebars were rapid from the macro to micro media engines, double shifting with super charged keyboards, arriving like first respondents to all social media vehicles.
There was a bit of pleasure in the Ferris wheel of disappointment, distinction in its rotational relevance, a temporary relief knowing a future rematch betwixt these top heavyweights would be inevitable.  Inquiring minds didn't hesitate in asking the pliable question, "Will Fury commit to an immediate rematch?"  the verdict was expeditious than most expected.  He would decline the impromptu of returning center square while the coals were hot, it may have been in part to Fury 12th-round knockdown where many felt the fight should have been stopped.   If we're talking bragging rights, then Fury will probably point to his boxing lapel which read "You seen him knock me down, but you witness me rise up?"  If you think about it, the delay was a blessing in disguise considering all the masterminds responsible for planning this epic rematch Feb 22, a calendar date which generated unbelievable support across the boxing channels.
Boxing critics pinned Wilder as the power puncher and Fury the boxer.   Simplicity at its best right, but not so fast.  Spinning the boxing real several times, we can attest that the boxer proclaimed as the more technically proficient striker didn't exactly dominate the theme.   Fury excelled in his pocketed appointments with strict delivery, distance accountability and fought for 12-rounds displaying his boxing eccentrics.  Wilder armor to his weaponry has been the hammers, TNT ammunition, and flat out accused of possessing hand carried mortars to produce temporary comatosis.  And let's not march in place forgetting the ring IQ of either fighter, both heavyweight pugilists are the top two elite in their division and commits very well in calculating changes in the art of war. 
As the skyline dimmed to the street lit pedestrians, the crowd converged into the MGM Grand Garden arena for the much-anticipated rematch Feb 22, a bout important to both sides of the global spectrum.  This contention was to determine the best boxer in the heavyweight division.   Fury, the challenger, Wilder the reigning defending champion commence their ring walk.   Fury dressed in a kings robe, fitted with a gold crown towering at the tip of his 6'9 frame.  For Wilder, his outfit all black layered with a front and rear chest plate, skulls on the cusp of each shoulder and a full-face mask with fiery red-beaming eyes.  A battle garb unlike any other.  Two towering giants topple the ropes entering a centerpiece of boxing history.   There were cheers and jeers as the fighters inductions echoed the names of each champion primed for a high-stakes main attraction.   
Referee Kenny Bayless calls the action as Fury rushes the center met by a pair of jabs from Wilder.  Fighters circle their ranging distance, Fury rhythms his feints landing a left jab to Wilder breadbasket.  Wilder pacing on the back-foot as Fury patrols the center. 2:08 Wilder lands the first of his crowd-pleasing right-hand flush on Fury jawline, he backs up to reset.  Another right-hand by Wilder post Fury on the ropes but takes it well.   Fury lands his own right hand.  Fury provokes a six-punch combination pushing forward as Wilder marches backwards for an opening.  Minute remaining to the first round, Fury parries Wilder touch jab looking for an opening.  Stinging jab from Fury wobbles Wilder to the far corner as the round expire.  
Start of the second-round-Fury pressing. Catches a jab from Wilder and returns one of his own.    Strait left from Fury- Right from Wilder.  Combination by Wilder backs up Fury.  Jab landed from both, but Fury presses forward.  Wilder on the back-foot outside of Fury range. Final six seconds, Wilder unloads a right-hand as Fury defends well, Wilder sends another as Fury slips under, turn the corner catching Wilder with a pair of right hands bombarding him into the corner.  Round ends.  
Bell chimes in the third-round.  Posturing from both.  Jabs compubox has Wilder throwing 34 – landing 10 and Fury throwing 34- landing 10.    Jab by Fury backs Wilder up. Fury staying on the doorstep of Wilder forcing him to a respond. Fighters clinch as Fury locks down the head of Wilder leaning all his 273lbs on the champion.  Referee breaks, Wilder charges with a right-hand barely missing the mark.  Long jab by Fury chased by a thunderous right-hand.   Lead jab lands by Fury with a powerful right punch landing behind the ear of Wilder.  Fighters clinch with some dirty boxing on the inside as Bayless separates.   Immediately, Fury triggers a one-two combination sending Wilder to the canvas -downs goes Wilder.   Champion appears bewildered by the knockdown but quickly rises to the count of five as Bayless check the champion.   Wilder is alright, Fury rushes in as Wilder is on unsteady legs dogging the onslaught by Fury.  Wilder reaches out to hold on as Fury backs up, down to the canvas again is Wilder but rules a slip.   Final seconds closes the round as Fury stares Wilder down returning to their corners. 
Fourth-round.  Wilder doubles up on the jab.   Blood streaming from the left ear of Wilder.  He shoots a jab to the body and Fury steps in with a winging right hand. Wilder avoids but stumbles backwards on his wallet in the far corner.   No knock down.   Body shot from Fury, then he pops a long jab off the nose of Wilder.  Action picking up again, Fury mauling Wilder every opening.  He isn't waiting, Fury punches on speed dial as he phones in another combination.   Fighter clinch, Fury locks in the head of Wilder, as he leverages his weight again.  Punches in close for both.  Fury clinching his weighted leverage again, he's leaning on Wilder like a wet envelope.   Slapping jab by Wilder who is wearing the fight but still raging the battle.  Wilder lunges with another right-hand off the top of Fury head.  He takes it well but holding once again by Fury. 
Fury opens the fifth stinging Wilder with two solid punches up top.  Wilder stumbles to the ropes, Fury pounces in firing off punches. Wilder seems dazed on unstable legs. Fury stays close.  Fighters break, Fury rushes in again to a clinch.  Wilder looks worn, his eyes a tale of torment, he fights on as Fury stay on top bullying Wilder to the ropes.  1:51 Fury stalks Wilder unleashing a stiff right punch and a thudding left punch to the body of Wilder who takes a seat for his second knock down of the fight.  The crowd is frenetic, Wilder rolls to his left rising once more to the count.  Fury is in control, his expression, body language and his punishing distribution is an indictment for the champion Wilder.   Referee clears the count. Wilder is wearing a crimson facial mask, bloody lip, streaming ruby irrigation from a potential busted ear drum.   His mouth wide open as he fights on with a minute remaining.   Wilder stands his square in the corner, Fury charges in swinging as he clinches.  Fury leans heavy on Wilder, forcing even more energy from his survival reservoir.    Bayless splits the fighters and Fury shoots an uppercut.  Time out is called by Bayless; he strips a point from Fury for the action which at this point does very little when he's comfortably ahead in the bout. Fighters reset, Wilder against the ropes, Fury reels off punches to a stationary Wilder who counters in desperation as the round ends.
Sixth-round ushers in a night of sheer dominance from the challenger Fury.  The pace nitrous Fury into gear with a barrage of punches, he's firing on all cylinders pushing Wilder to the ropes.  Wilder clinches to slow Fury down on the inside but Fury stays in high gear banging the body.   Referee intervention as he divides the fighters.  Wilder is weary as he holds residence by the ropes. Fury walks in as both land jabs, Fury clinches his leverage, forcing Wilder to hold him up.  Break from the referee, Fury feints as he sends punches to the inbox of Wilder, who signs-in to the corner for another download of punches on Wilder defensive hard drive.   1:40 ticks away as the referee divorce the fighters, Fury holds court filing several punches to the head of the champion.  Wilder looks spent; he refuses to leave the ropes which has been an open house for Fury. No mercy, Fury invades Wilder real estate with guns blazing, punch-after-punch pushing Wilder to the ropes.  Sweeping left hook closes out the frame.
Seventh-round on deck. Wilder with a light jab, Fury pushes past with a lead left hook that sends Wilder back.   The champion circles the outside perimeter still energized to engage but wearing his bruising badges, fighting on to land his bomb that changes everything.   Fury presses Wilder in reverse back to the corner, landing a left, right, another right, one to the body as the referee steps in at 1:18 to halt the fight. Wilder is livid as he pleads with the referee for stopping it but is informed his corner toweled the stoppage. Wilder entered the corner with Mark Breland on the apron explaining his actions to end it.  An epic 11th defense to an historic run from Wilder who never quit, he never surrendered but he was defeated by a better fighter who performed tremendously in the grandest heavyweight showdown of this era.  Boxing is always evolving, from the coaches, to their fighters. This will never change as we know it, but unfortunately a lose will periodically urge the onset for enforceable changes on the back end of defeat.   As Fury is exalted as the new WBC heavyweight champion, we the fans are quickly salivating for a rematch to such an exciting clash.  The ins and outs awaiting the official announcement if there will be a trilogy, will indeed frolic our media timelines for weeks to come.    In no way will Wilder tuck his chin outside the ropes, no need to.  He fought with every weapon at his disposal, he showed incredible toughness and proved he's a pugilist warrior from a different cloth.  Effective changes are crucial if he's to rematch Fury, this we know for sure.    
Pics courtesy of Mikey Williams