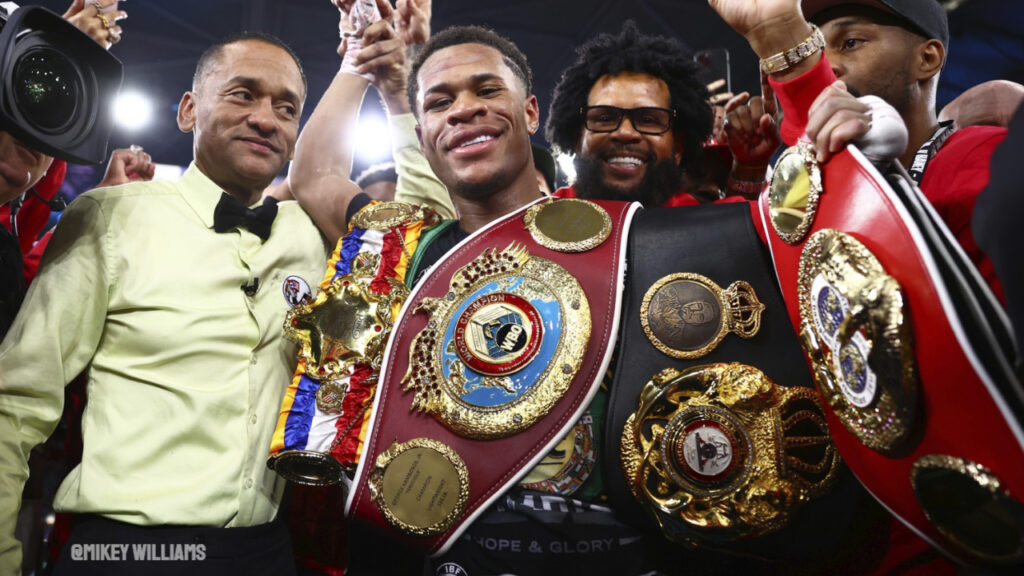 Devin Haney Reigns "UNDISPUTED" Looked Easy, Lomachenko Next?
By Scottie "The Context" White
Marvel Stadium, Docklands (June 05, 2022) Melbourne, Australia nestled in attendance of 50,000 besieging fans this past Sunday witnessed boxing history on their Homefront . Formerly unbeaten WBC (Franchise) WBA, IBF, WBO, (RING) lightweight unified world champion George "Ferocious" Kambosos jr (20-1 10KO), of Sydney, New South Wales, Australia was dethroned by United States WBC world champion Devin "The Dream" Haney (28-0 15KO) of Las Vegas, Nevada.
The sport of boxing has always been a storybook of combat sports. This fight wouldn't disappoint by any measure in proving who's the greatest lightweight boxer this era. Over the past several months championship belts changed ownership between the top lightweight fighters battling for supremacy, Vasiliy Lomachencko, Teofimo Lopez, George Kambosos to Devin Haney in an effort to solidify their names atop the history books. What's special about this fight, it includes every super championship title from each sanctioning body to include the (WBC) Franchise. Its a very first championship contention of this magnitude ever in the sport of boxing.
Last November 2021, Kambosos split the ropes to challenge former opposition Lopez for his WBC (Franchise), WBA, IBF, WBO and RING titles at the boxing mecca Madison Square Garden, New York City. Kambosos contending the biggest fight of his career would be victorious defeating Lopez in a 12-round split-decision. Days following Kambosos unification, questions quickly circulated if the last remaining champion (Haney) would be next in line to face Kambosos in his first defense.
Several weeks expired injecting speculation that Kambosos may defend his titles versus the former lightweight unified champion Lomachenko, this was prior to him being order to duty amid military conflict in his home country.
Haney and Kambosos would officially begin talks ordering two fights to take place on Kambosos home soil of Australia.  If Haney was to win the first matchup, Kambosos would be afforded an immediate rematch but if Kambosos defeated Haney first, then Haney would be eliminated from challenging Kambosos for an immediate rematch. All isn't fair in love and war I'm guessing.
Meantime as the promotional sails for this fight rode the media waves, the first obstacle for team Haney was the visa refusal for Bill Haney, the father/head trainer of Devin was rejected by the commonwealth government of Australia.  Bill would go public about his adjudication registering decades past which violated Australia policies but it wasn't clear as if he would be permanently denied missing the fight date.   It seemed to be a red light leading up the final hours of the fight night but then Bill was finally granted entry approval from Australia government joining the team for the biggest fight in lightweight history.
"FINAL PRESS WEEK"
The promotional onion bloomed nicely for this championship showcase; brash verbal exchanges and Kambosos missing weight ignited interest from the boxing masses. Kambosos failed miserably to portrait Haney as some disloyal informant stemming from a prior phone conversatio betwixt the two concerning another boxer. This would lead to a substantial amount of distasteful euphemisms from Kambosos implying Haney was a rat because of his actions. Of course, the ultimate caveat to trash talking was to prove who's the superior fighter inside the ropes and leave all the talking for after the fight.
"FIGHT NIGHT"
Melbourne crowd cheered frenetically in support of their hometown champion Kambosos in first defense of his crowns. Hope would eventually need a lifeline for this hardship, as their spiritual adrenaline would evaporate once the bell sounded.   Team Haney scouting directives on Kambosos would play out like an academic thesis, closed caption, a boxing tutorial titled "The Next Jab I Will Explain and Demonstrate."  Haney was not on regular time from the opening bell, his purpose was obviously to insert the sweet science into the hearts of the Aussie onlookers with authority.  Jab after jab complimented with superb sharpness hit the mark. He danced his opponent 98% of the fight minimizing unnecessary damage from longstanding in-fighting but was willing to stand his square once the window presented itself.   Kambosos was dry cleaned plain and simple, wasn't even close in all respect.
Haney elusiveness to Kambosos counter shots would fickle a smile from Houdini himself, his in and out egression displayed studious accountability. An action that rile the frustration from Kambosos and his corner once the fight ushered into mid rounds. Haney pierced Kambosos solar flexes doubling, even tripling his jabs throughout the fight. By the 10th round, the wrangling oars which had assisted their travels unto the Australian coast were floating in a quarry of disbelief. Not just from the performance but the fact Kambosos corner didn't have an answer for Haney dominance.
Haney performance looked too easy against a fighter who wasn't long ago levitating in glory following his win over Lopez.
"Championship Rounds"
Both the 11th and 12th frame of this highly anticipated showdown forced Kambosos into a desperate spiral to wage a comeback while his fans prayed for a miracle left unblessed.
In the end, Haney registered a unanimous decision victory with the official scorecards reading 116-112, 116-112 and 118-110.
Haney – "I handicapped him at his best game," Haney said after the fight. "He wanted to land the overhand right and the big left hook. I handicapped him. I was fighting both ways. When I would go to the left I would fight his right hand. When I would go to the right, I would fight his hook. He couldn't land either one of them."