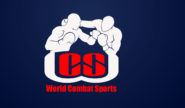 2019 WORLD COMBAT SPORTS- A leader in media coverage across the global spectrum. Salute!!!
By Scottie "The Context" White
2019 World Combat Sports commencement is saluting my motivated supporters and encourage the word of mouth in 1TEAM1FIGHT- World Combat Sports .
Please take a moment for a quick snippet to frolic your pupils from start to finish in reading the Vegas Grand Boxing Promotions "Press releases." The intentional effort is to promote, to generate a larger viewership for the fighters/promotion/event, so I encourage you to check out these fighters who are calendared to contend on 26th January, 2019, Charlotte NC. Vegas Grand Boxing Promotions founder LaVonda Earley Stacey. Punch starts the list to an annual line up for the entire boxing experience.
World Combat Sports is assisting VGBP with the expansion advisories for 26 January. Join us toward increasing the regional footprint for the fighters/fans, an avenue that ingratiate your interest to tune in as a boxing fanatic. On the North or South region of the Carolinas, I've met a surplus of fighters on deck and if boxing was more of a fighters independency, then i would communicate more effectively in allowing the fighters to see the better good in a writer, one who loves boxing and enjoys character sparring, rounds that create an epic story of intrigue for combat pugilist.
I'm not here to convince everyone to read, but when you ridicule any facet of my articles, you're attempting to radiate pointless energy. If you jump on social media bantering what needs to happen in the sport of boxing but hold tight on the action, then you're just another blackguard with ill intentions. Boxing has enough of those actively serving a full-time frantic to the underbelly of egregious intent. Real as I can put it. Surely the priority is the competition internal to ring format, and my duty is combat sports media in respect to reporting on the underlining pugilism that is "Boxing/MMA."
Check this out, if I extend my gratitude, then understand the depth of my sincerity, but know that my character sparring can be relentless for those mulligrubs whom are reality haters.
I appreciate all my supporters. And i will direct this to the squinted eyed onlookers with gritted teeth seething for the failure of others.
"I'm one of the best writers in the "World," don't praise what i do, then attempt to devalue the brand just to entice me to surrender my formidable gift. I'm not even buoyed on the surface yet, so understand it's many levels to media appropriation. Knowledge is easy work to banter the reservoir to social media gatherers, but editorialize it, mesh together that intriguing plot on a (1-0) fighter with zero knockouts and script it like his/her is undisputed 40-0 with 39 knock outs. Go head……. Not a cogitation that settles easy huh. Those individuals know exactly who you are, stop pretending like you don't!
Thank you to everyone who has granted me access to cover your fight cards, I'm truly thankful for the opportunity and the grandiose experience. I look forward to revisiting your competing domain of pugilism in the near future. – Scottie "The Context" White.
To the underrated genius Michael Williams Sr., bro Thank you from day numero uno in twisting that low wattage bulb of familiarity in the Carolinas, to an LED HALOGEN. Gratitude all day, Thank you for everything. Stay Woke……….#TEAM150 #TEAMRJJ
Salute and be sure to turn-up and tune-in World Combat Sports #TEAM150#JAWBREAKERS.