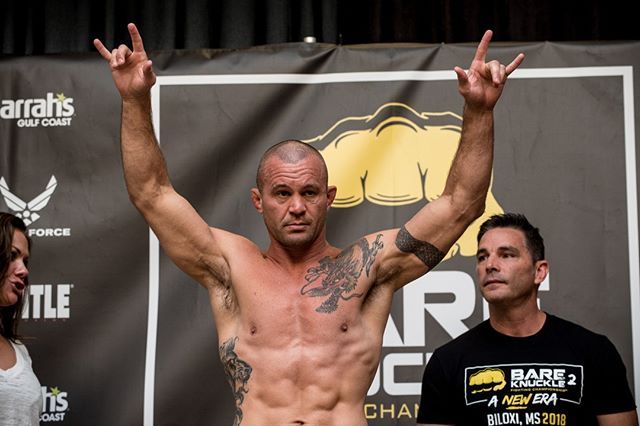 Former UFC Superstar, Chris Lytle is primed to light up another run in "Bare Knuckle Fighting Championship" (BKFC)
By Scottie "The Context" White
Attention fight fans, here is a brief takeout of motivation in covering another fascinating layer to the global spectrum of combat sports. A long list of pugilist genres in there glorified state, for these are rightfully known as modern day gladiators.
Former UFC Superstar Chris Lytle has over 50 battle tested competitions to his ledger in mix martial arts, a regime of combat that demanded his courage, durability, and a lethal technical striking expertise. He's fought with top contenders, champions and current hall of famers during his mix martial arts career but now has arisen to the squared circle of bare knuckle fighting. Lytle is a bona fide bad ass, he's deployed his combat prowess of experience in "Bare Knuckle Boxing" to his accredited credentials, where his record was indeed respectable in that organization to. But in BKFC, the wrapping protocol differs slightly than BKB where the knuckles are entirely exposed to delegate punishment absent of hand protection.
A protocol quite different from the 4oz protectors that covered the fighters hands in mix martial arts. BKFC there isn't a single layer from knuckle to body when a fighter is afflicting their offensive strategy, a tactical placement is crucial for the fighter in reserving a healthy structure to contend but a damaging striking detriment in degrading their opponents ability to compete. If you've witness Lytle authoritative distribution, it's a left and right check which will bounce off his opponents head with ill-intentions. In the chaos, there is poise, strict accountability in his delivery and no retreat until you're capable of a forceful punch demanding his respect. There's no quit to Lytle, nor do I recommend taking his carefree demeanor outside the square for impaired sign of weakness.

BKFC – Bare Knuckle Fighting Championship is rocketing to new heights in a flourishing constellation of combat sports super stardom. Allow your fingers do the walking for a brief stroll in history down a four letter bloc "BKFC" founded in April, 2018 and is presided over by former professional boxer David Feldman. "American Bare-knuckle boxing promotion based in Philadelphia. BKFC is the first promotion to hold a sanctioned Bare Knuckle Boxing event in the United States since 1889. Its first event was held in 2018, and also punch starting an knuckle up affair of events being held as of February 2019."

BKFC host a dynamic roster of whos-who fighters that has battled under the brightest lights on the biggest stages. Check out the notable names of these talented veteran pugilist. Ricco Rodriguez, Leonard Garcia, Charles Bennett, Kendall Grove, Chris Lytle, Joe Riggs, Leonard Garcia, Jason Knight Eric Prindle, Reggie Barnett Jr, Joey Beltran, Bec Rawlings, Artem Lobov, and Bobby Gunn.

My personal media consignment, I've covered many of these fighters since the inception of their pugilist charter, the backstory, grueling battles, and witnessing the Ups/Downs in victory to defeat. What halos the most is the lit torch, a fire that warms their burning desire to still compete famously. Chris Lytle was super in earning a victory over a fierce JC Llamas via unanimous decision.

Please tune in for my interview with lethal striker, former UFC Veteran Chris Lytle on facebook. One of the nicest pugilist in the sport, he dropped in briefly to speak with WCS at the MGM Grand Las Vegas as I covered the Broner / Paquaio boxing headliner.