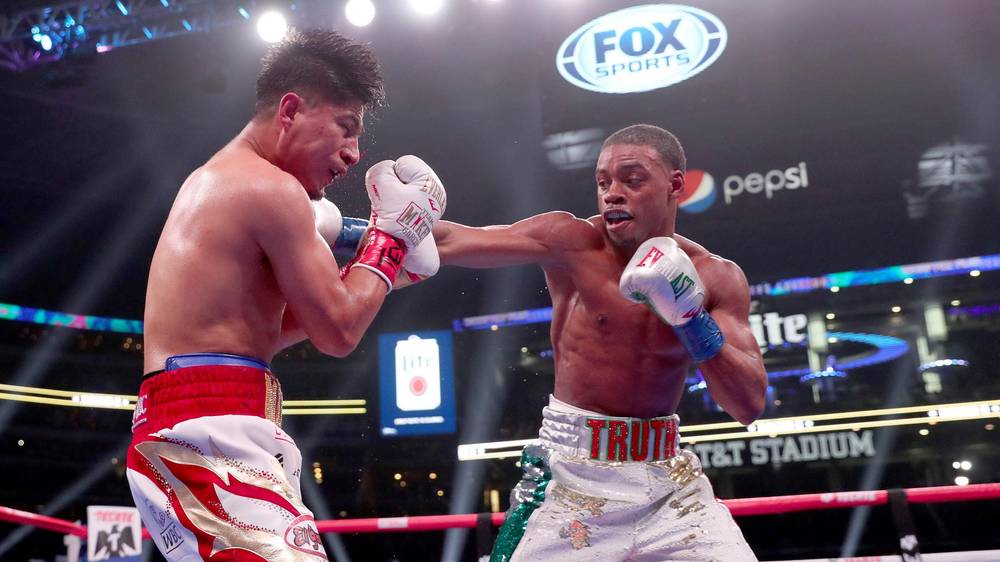 #ANDSTILL, A Boxing Mercenary, Errol Spence jr Handed Down a Brutish 12-round battery to Mikey Garcia.
BY Scottie "The Context" White
Boxing gloves would spark 16th March on the big stage of the AT&T arena and for better words ignited a ring-of-fire for 12 rounds. IBF welterweight world champion blistered four-division champ Mikey Garcia in what was expected to annal an upset. Dallas Cowboy stadium was amazingly electric for everyone who were blessed to witness this challenge from the top of the 135-division, to the bottom-half of a stacked 147 bracket which proved to be members-only. The bravado was edgy but light verbal sparring in pockets of the pressers and face-off segments. In hindsight, if there was a warning, I would have aired on the side of caution in underscoring the poniard words from Spence Jr.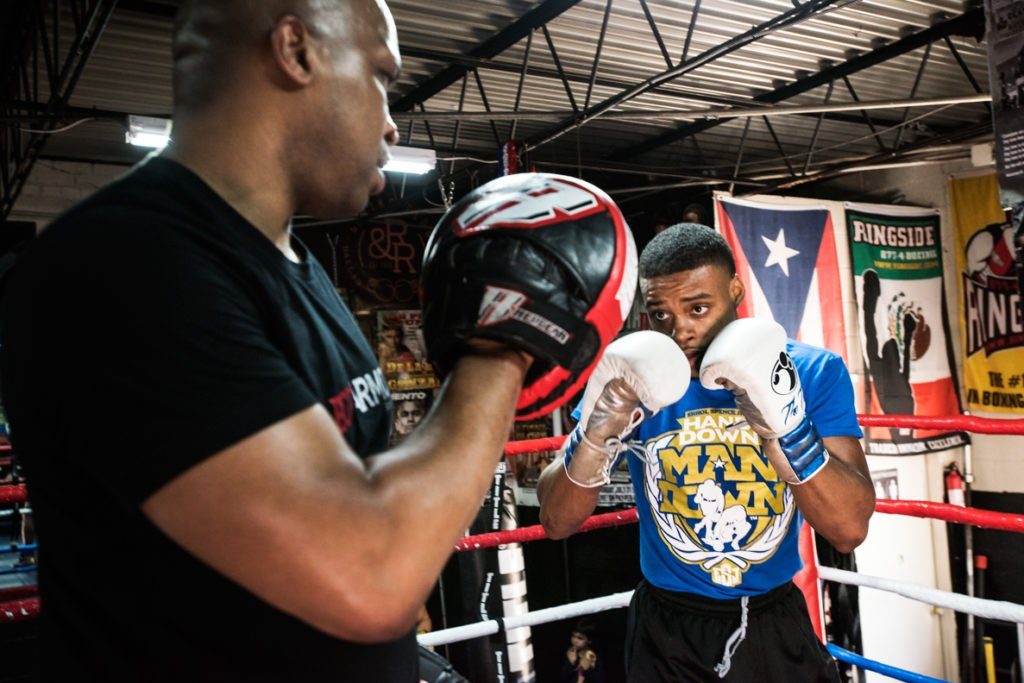 Standing on his square, Garcia stated he was better than Spence jr in all technical aspects of boxing. A potent piercing verbiage in response from Spence jr was to "Keep that same energy" once it was time to throw down on fight night. Spence jr sangfroid expression may have seemed innocuous, but the predictability from the consensus knew it would storm a deleterious fury once the bell sounded. Clearly, in a full contact sport as boxing, an expedited response of logic would be "Prove It", prove you're better than me in front of millions.  Both Spence jr and Garcia have never been connoisseurs of trash talking but their performing domination inside the ring has indeed classed them on the highest tier of championship glory.
As months trickled down the hours awaiting to glove up, the cameras canvased a star-studded avenue in Jerry Jones world hosted in Arlington Tx. Indoor raucous for a boxing roll call Deontay Wilder, Floyd Mayweather, Real Deal Evander Holyfield, Sugar Ray Leonard, Roberto Duran, Lennox Lewis just to name a few. Also, there were ascetically perfected sightings, glamorous, form fitting gorgeous women embedded throughout the arena only as a rustle of Texas stallions.
Drawing the curtains commencing the undercard was a disappointment, if you blinked or exited for a beverage only returning to a referee-serenading as I call it overseeing knockouts simultaneously. I've advocated for more fighters to be in commercial mainstream, just not in a setting where I'm paying for boxing entertainment amongst distinguished company for a championship main-event. Though I will say, it was awesome to see the return of David Benavidez, former Super Middleweight champion who revisited the center square following a substance abuse violation resulting in his WBC title being stripped. Just outside of a year to his suspension when he clocked in once again a stupendously wicked display of crafted hand speed, switching angles, shifted gears, and crucial surgeon to his offensive conflict to opponent J Leon Love, who was never in the fight competitively. Post-fight, he manually signaled his personal positioning homing in on current WBC Super middleweight champion Anthony Dirrell that "I'm coming for a title that rightfully mine" and to the fans letting them know he never lost it, "so expect a future showtime for me to come for my belt."
So now the main even hits the stage with Mikey Garcia first to ring walk donning a black Stetson flanked by his team la familia ready for what they believed would be his cinco-divisional title in hopes of shocking the world. The crowd did rise up a vociferous cheering tone for Garcia, they were chanting his name quite heavily the entire dash to the battle apron, where he split the ropes to the roar of the crowd.
Spence jr did it live, as we call it "In Living Color" with the Lancaster High School band who set it off as bands should representing a hometown superstar. It took me back to the "the battle of the bands" where graded dance numbers coupled with banging music would have you dancing in the stands on rhythm for the entire set. I have to Salute Spence jr for supporting a friend and local artist "Yella Beezy for a second showing, having walked out with Spence jr on the night Spence jr knocked out opponent Carlos Ocampo in one-round at the Ford Center. The crowd was turnt-up vibing out to "Yella Beezy" hot single "It's On Me" that set the club scene for a quick minute with fans dancing to every word and pumping up the much needed nuisances in setting the tone for a main-attraction showcase. Spence jr was attired in the glitzy, glimmering, sparkle of red, green, white tri-colors to the delight of 47,525 strong awaiting the echo of the opening bell.
Commencing this championship stanza opening round, Spence jr fired off his righthand piston. Single, double, even tripling up his early messenger with a rude welcome aboard introduction to his welterweight tyro. Such an easy round where Mikey was collecting data instead of sending it. Second round a bit more feinting, posing, and jousting touch jabs. Garcia shockingly was pressing forward absent of any real connect rate to match up the attendance. Final minute of the frame there were 18 punches landed to 9 of Garcia. Bells sound with Garcia pumping his right hand to the sky for approval from the fans. Need I mention the commentary from Joe Gossen is egregiously bias right now. Round-three Spence jr nimble on the pivot in looking for the counter. Spence jr surgical jab to the body, then up top. Big left from Spence jr lands flush, and another sweeping left to the body scores from Spence jr. Mikey isn't conceding space but isn't clocking in with his timing just yet. Easy three rounds possibly for Spence jr. Out to the center to start the fourth, tripling up his jab is Spence jr. Garcia feints fires off a two-punch combination just short. Spence jr is on the bezel with his combination, very selective with smart shot placement scoring on Garcia. Both fighters circling with touch jabs as Spence jr gases the pace landing a group of punishing shots landing heavily around the guard of Garcia, the change in delegating his body-head attack to Garcia. Easily a sweep for Spence Jr.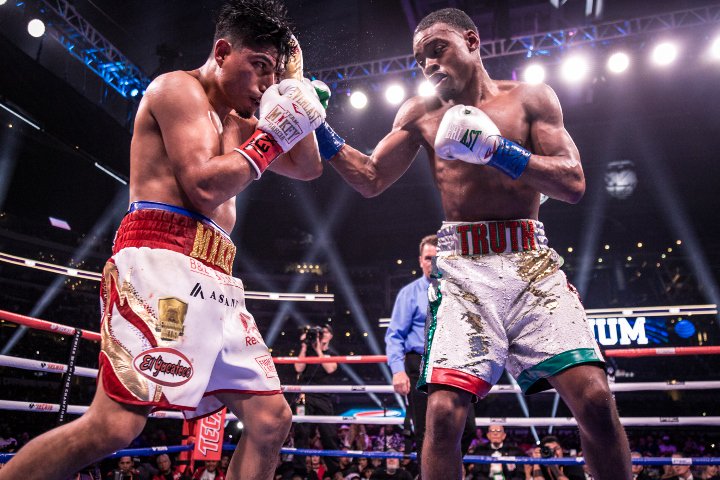 Round-5 begins as Spence jr begins with a jolting one-two pair, answered from Garcia who is step off of real damage. Spence jr is starting to spark up easy combinations of his choosing as he is displaying superb boxing excellence. Garcia isn't in real danger but is far behind at this point. Joe Gossen refuses to see any good in Spence jr dominant deliverance. Sixth round is busy with Spence jr committing to a poniard jab, a beautiful display of fundamental delegation. 1:25 telling blow of the fight, Spence jr lands a blistering right-hand pushing Garcia off rhythm. Action is buzzing, Garcia still searching for open shots in spurts but Spence jr is boxing sensational right now in shutting down any momentum from Garcia. Seventh-round opens with a much closer distance betwixt the two. Lefthand to the body by Spence jr. Last round Spence jr land 13 jabs, excellent work rate. Both are contesting the range of the other seeing Garcia lands a nice right-hand to Spence jr who exits on the reset and return a strict left-hand up top.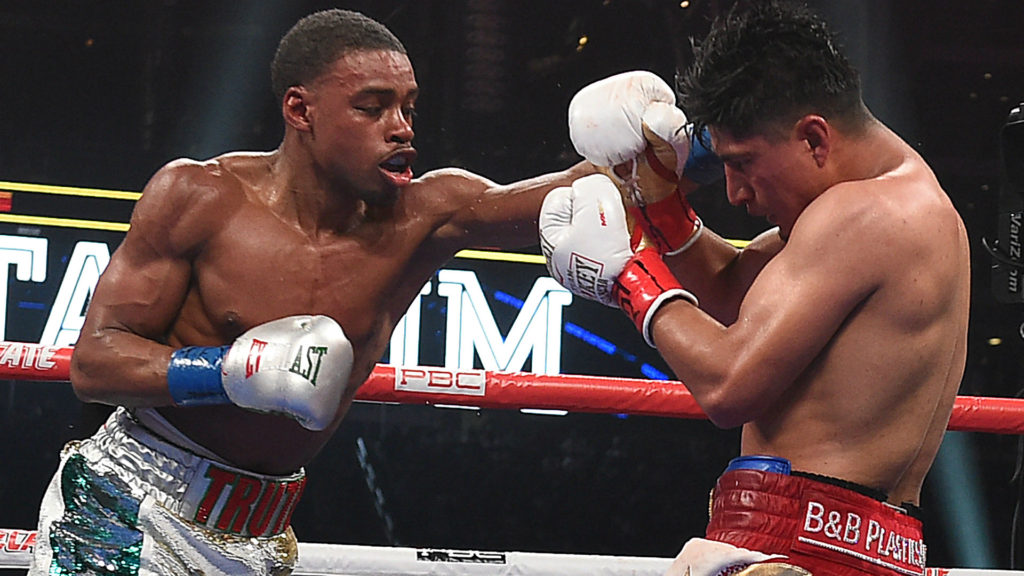 Eight-round pure domination by Spence jr. The exchange rate is cashing in with valuable interest from the champ. Slowing down is Garcia as he covers up high guard. Garcia is feeling the blitz in a bad way from Spence jr. Punch stat show Spence jr, 32-landed to 80-thrown posting a 40% connect rate. Audio from coach Derick James banters "That's beautiful Mikey-Oh God" possible an agog favor of Spence jr countering ability cashing in one more stinging left up top. Betwixt rounds Garcia is wearing the fight for sure. Ninth-round Garcia in retreat on the back foot as Spence is pressing with a barrage of punches while still maintaining composure. Spence jr is on fire as he lights into Garcia at will, anytime or anywhere he chooses. Garcia is in trouble from a left uppercut. Garcia up against the ropes. Now an idle Garcia is taking a beaten which he attempts a counter left-hook off the mark. Spence jr closes down the final seconds in a super one-sided round for Spence jr. Tenth-round top of the frame. Spence jr powers up his double-jab as Garcia backs up. Punch stat from round-nine from Spence jr landing 51 punches, the most ever landed on Garcia. Center scrum as both fighters are in the booth trading with the edge to Spence jr toxic body attack. Head and body don't matter how he does it, Spence jr is driving forward with a head full of momentum. At this point, there is an obvious ere in the arena knowing Garcia needs a knock out to win, if himself isn't finished beforehand.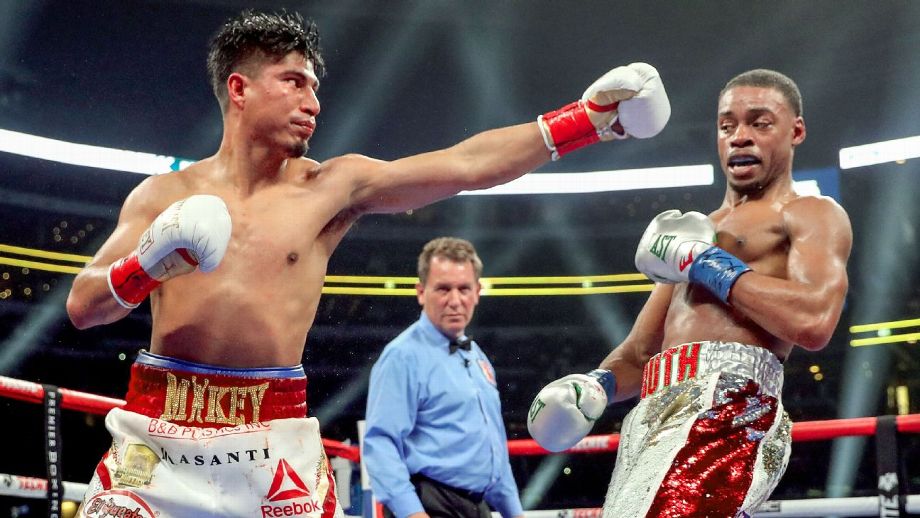 Round-eleven sounds with Garcia in the corner from an onslaught from Spence jr, a swarm of bad intentions demonstrating another dimension to Spence jr boxing prowess.  Body-head attack with Spence jr being the suitor, six punches unanswered from Spence jr as he boxes on the inside magically. As the final 10 seconds reign in, the cameras show owner Jerry Jones applauding his approval for the hometown fighter Spence jr.  Championship final round Garcia pumps his fist to the boxing audience to rally one last hoorah, as Spence jr awaits to join his first ever twelfth round in his career.  High guard from Spence jr as he sneaks the jab around the left of Garcia.   Spence jr with a double right hook.  Goosen hypes Garcia every move, as to insinuate he has a puncher chance for something special in the final minute.  Spence jr catch and shoot landing his strait left off the temple of Garcia. Final 30 seconds and Spence jr slips and moves as he turns up the pressure landing a solid two-punch combination. Final bell sounds, Spence jr pounds his chest in acknowledgement to the cheering fans who packed the house as the third largest attendance of 47,525 in the AT&T Stadium history.
Jimmy Lennon reads the cards Feldman 120-107, Lavin and Vasquez both 120-108.  All three in favor of the winner, remaining undefeated, boxing pride of Dallas Texas, IBF Welterweight world champion Errol "Truth" Spence jr. 
Spence vs. Garcia scorecard, live coverage
| ROUND | 1 | 2 | 3 | 4 | 5 | 6 | 7 | 8 | 9 | 10 | 11 | 12 | TOTAL |
| --- | --- | --- | --- | --- | --- | --- | --- | --- | --- | --- | --- | --- | --- |
| Spence | 10 | 10 | 10 | 10 | 10 | 10 | 10 | 10 | 10 | 10 | 10 | 10 | 120 |
| Garcia | 9 | 9 | 9 | 9 | 9 | 9 | 9 | 9 | 9 | 9 | 9 | 9 | 108 |
Post-fight Spence jr said "From a pup, this has been my hometown fanbase. They were talking he was so smart, but this is the sweet science. I have much respect for Mikey Garcia for taking the fight. Shawn Porter can't sell out a family dinner." Spence jr did summon eight-division champion Manny Pacquaio over to banter a challenge for his next opponent if Pacquaio signs-on.
An amazing display of championship boxing, though a lopsided one it played out the reality that not every fight on paper will maturated the results from the public-eye.  In saying, Spence jr devoured the critics vilipending his ring IQ to be subordinate to that of Garcia.  What we did see was Spence jr levels above to his boxing prowess as one of the best in the sport hands up.  Will it be enough to convince the collective masses to insert his name into the top five pound-for-pound, that may current a bit of resistance, but it etches him much closer to an ultimate showstopping collision with welterweight compeer, WBO champion Terence "Bud" Crawford.  Both hands on the bezel confirms the time is right, seeing two elite fighters battling atop their respective divisional grades of competitive diligence, which may in fact anchor a definitive clash in the next year.  I'm enamored with the versatility of combat sports, there are a surplus of boxing reels that will educate the most obstinate of casual fans. The options are in abundance to be honest, both Spence jr and Garcia have several competitive slots in the chute in their respective divisions. The Welterweight lea roams a solid group of pugilist lions to the four-corner cage, but only if the monetary entree slices a delicious percentage that salivatory for both fighters. For Garcia, the quarry of resentment at 135-pounds still buoys an oily residue from prior promotional proprietor Top Rank in a potential unification bout with superstar Vasyl Lomachenko.
Bob Arum tweeted through his promotional cross-hairs, as he aimed center mass directed at Lightweight champion Mikey Garcia following his 12-round thrashing Saturday night.