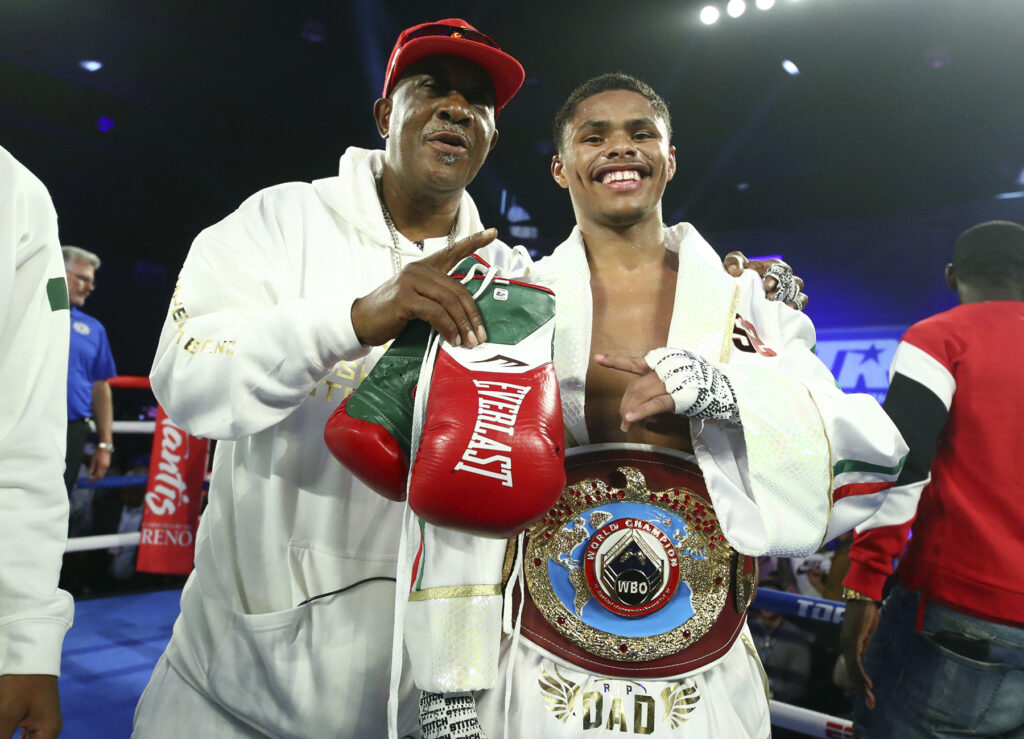 Newark NJ Shakur Stevenson Crowned WBO World Champion, Calls Out Josh Warrington For Unification
BY Scottie "The Context" White
RENO, Nev. (Oct. 26, 2019) —  Olympic Silver Champion Shakur Stevenson has earn his first world championship as a professional boxer. On the bezel was Stevenson sheer dominance over adversary Joet Gonzalez. Stevenson never permitted Gonzalez to establish any momentum settling into their 12-round featherweight championship showcase. The winner was rewarded with the vacant World Boxing Organization (WBO) featherweight crown vacated by former champion Oscar Valdez. It was a week of media precipitated questions which showered Stevenson on a personal level concerning his three year relationship with Gonzalez sister, a relationship shredding an internal bond to the Gonzalez family which pierced a residual burden since the Olympics where Stevenson ❤️ Jajaira first met.
The Boylan Street Recreation Center boxer haling out of Newark NJ, has made his city proud once more. We can assume the Newark footprint sounded off their frenetic approval in witnessing one of their own reach the highest pinnacle in professional boxing. Stevenson, an Olympic silver champion is nothing to scoff at outside the prestigious badge of a gold medal standard. But for this young star, he's cut from a cloth to achieve excellence, a self accountability one demands through dedication and work ethic. His words sewn into those very stitches absorbing the tears of his disappointment, the core values he demanded of himself that an achievement outside of first, falls outside the perimeter of his aspirations for greatness. Arriving in second kept him honest, it never sat well with Stevenson who used his medal standing as motivation to now surf the waterways to the shores of championship success.
One can only imagine how proud his grandfather Wali Moses heart has warmed over the past several hours, a man who has piloted this young boxing star from the inception of his journey, traveling, tournaments, training, sparring and a full-time presence just outside the ring apron, hearing bell-after-bell throughout Stevenson years of boxing competition . As the Pop/Hip Hop star Drake sang the hook "We Started From The Bottom – Now We Here." 
Newly crowned WBO world champion will now return to his boxing footprints of Newark NJ, to embrace the masses, the village who raised Stevenson in his ascension from a youthful amateur, to now exalted in the boxing annals as a world boxing champion. Stevenson cemented his victory in winning the World Boxing Organization (WBO) featherweight title in front of 2,828 fans at the Reno-Sparks Convention Center.


Stevenson accolades will attest a worthy recognition in becoming the first Team USA male fighter of the 2016 Rio Olympics to triumph as a world titlist .

"This is a great feeling. One of the best feelings of my life," said Stevenson. "I have a lot of respect for Joet. He is a great fighter. I have nothing against him. If he decides to be cool with me, I'll be cool with him."
"Stevenson already knows what he wants the next challenge in his career to be."

"Josh Warrington! You are a champion, now I am a champion. Let's do this! I want to unify titles."
PHOTOS 4MIKEYWILLIAMS
WORLD COMBAT SPORTS on Social Media:
► Follow on Twitter: http://www.twitter.com/worldcombatspo1
► Like on Facebook: http://www.facebook.com/worldcombatsports
► Follow on Instagram: http://www.instagram.com/worldcombatsports
✅Subscribe YOUTUBE – World Combat Sports
✅Follow – INSTAGRAM
✅SITE – WORLDCOMBATSPORTS.COM